1.1K
by Rodney Marsh
"… coming into the full light of Reality, of falling away from illusion, a great silence emerges from the center. We feel ourselves engulfed in the eternal silence of God." John Main The Present Christ (NY Crossroad 1991 pp74-76) 
In August 2023 a friend and I set off to walk part of the Bibbulmun Track (Western Australia) between Dwellingup and Bailingup (12 days, 200km). The winter weather was typical for South Western Australia. Chilly nights (2-5oC) and days when the air was still, silent and cool (about 15-18oC – perfect walking weather).  My walking partner and I had agreed that, whilst walking, we would maintain a 'monastic' silence using only 'considered' or 'necessary' speech. This silence was also held by the bush. There were, mostly, no bird sounds, except for the dawn chorus, and no wind to rustle the leaves and disturb the silence. The silence of the Jarrah/Marri forest was a precious gift. To my recollection, the only natural sounds we heard were created by the Murray River and the occasional noisy screeching of red-tailed black cockatoos, either adults feeding on Marri nuts or their nestlings noisily demanding food. Fortunately, when the fierce wind and driving rain of winter storm fronts arrived, it was night, and we were ensconced in our warm, dry sleeping bags in the safety of the trekking huts.  
Stillness and silence have been, literally, vital to me since I started practicing Christian meditation, about fifteen years ago, and, no matter what the season, I have developed the habit of being silent and still surrounded by the generosity of the natural world. I have learned that nature heals and restores my spirit through attention, presence, and silence. My walking partner and I didn't realize it at the time, but during the extended silence of our walk, Peace had nestled in our hearts – for Peace, like Hope, is also a thing with feathers, and, in our hearts, the bird of Peace had 'sung the tune – without the words' (apologies to Emily Dickinson). The silence around us had nurtured a stillness and silence within us. 
We had spent about five days in 'silent nature', separated from the ugliness of the ubiquitous noises of the man-made machines with which we have surrounded ourselves in the modern world. This artificial cacophony to which we daily subject ourselves may have become 'normalized', but it is degrading our humanity. As we walked, the silent bush was daily healing our agitated and corroded spirits. Twice, in the course of our walk, the aural infection and corruption of our humanness became apparent to us – machine noises interrupted the silence and wounded our spirits in a profound, visceral way. The first was when we heard the distant, intermittent, howls and screeches of a massive conveyor belt that carried bauxite ore from the mine to the mill. We heard the sounds first in the overnight hut, but it was many kilometers before we sighted, and then had to walk through the legs of, the monstrous machine. The second disturbance arose for us, when, after the days of silence, we approached the Coalfields Highway. The roars and groans of the trucks and cars laboring up or speeding down the hill gradually became louder. And the bird of Peace in our breasts took flight! These machine noises precipitated inner agitation and anxiety. Surely the groans and moans of a dying world! 
Aesthetes have always struggled to define or capture the connection they sense between beauty and truth. On the other hand, when we emerged from the silence there was a definite and undeniable link between noise and ugliness. This noise-ugliness link does not prove there is a connection between truth and beauty, but it continues to persuade me that it is necessary to take a traveled road to stillness and silence to experience the beautiful, good, and true. The best explanation for our experience of the peace of silence is that Reality is constantly being created from a living flow of love. Creation is sourced in love fulfills itself in love and returns to love. And we humans, each one of us, are a unique part of this flow of life. We can know this Reality through experience because we were created to be part of it. An inner silence, stillness, and peace are necessary to experience Reality as a flow from love, in love, and to love, and it takes the experience of inner silence for each of us to recognize and play our own part in this flow of life. In God's world, then the groans and moans we hear and also know through personal experience, are of a new world being born in us and through us.  
So, to restore my spirit, I will continue my twice-daily practice of 30 minutes of silent, still, openness to Reality. Like walking, and all that we do, silence and stillness is an embodied practices. The Psalmist knew how: still, yourself, experience the silence, and know (experience in the embodied sense) your own reality (I am) and you will discover that you are "in Christ" and "Christ is in you" (experience your own self in God and God in all things). You can use the words of Psalm 46:10 to practice being present to Presence. 
Be still
Be still and know
Be still and know that I am
Be still and know that I am God
Be still and know that I am
Be still and know
Be still 
---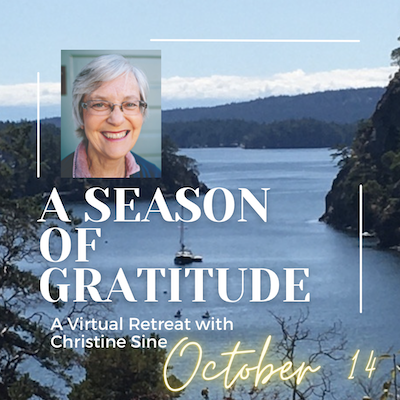 Join Christine Sine on October 14 or watch the recording later. October and November, the season between Canadian Thanksgiving and American Thanksgiving, is the gratitude season on Godspacelight. Christine Sine will encourage you to enter into the practice of gratitude in this interactive retreat that will help us enter this season of gratitude with joy and delight in our hearts.
Related