629
By Karen Wilk
Fire has been in the news a lot these last few months – it has been so destructive and cruel, Yet, in contrast to its devastation, summer also provided many of us the opportunity to enjoy its warmth and flame with friends and neighbors at home or out camping. This poem is an invitation to consider these contradictions.
Fire
Comfort, warmth
Security, light
A circle of grace in the night
But
In the wild
Fire screaming like a child
Terror, havoc, violent flames
Blazes forests, homes it claims
……….Destroying torching
……….……….everything
Smoke clouding, sky filling,
Time to evacuate, fear instilling
Dear God how could a good thing
Be so bad, so debilitating
Charcoal, black, what could cook,
Soothe, light, draw in
……….is snooked
……….……….In soot
But I love a campfire
With my neighbours, never tire
Sun goes down, starry night we admire
When we're 'lucky' –blessed by an owl
Northern lights, a conversation going deep
We're together, in the flicker, twilight sweeps
In this, we learn, that we might
Discover that
……… We all can
Burn bright with warming light
……….Or be cruel, and destroy what's right.
---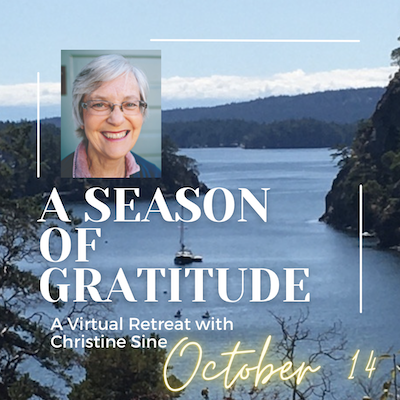 Join Christine Sine on October 14 or watch the recording later. October and November, the season between Canadian Thanksgiving and American Thanksgiving, is the gratitude season on Godspacelight. Christine Sine will encourage you to enter into the practice of gratitude in this interactive retreat that will help us enter this season of gratitude with joy and delight in our hearts.
Related