Friendship Will Make or Break Your Life


By Justin Whitmel Earley
I often think about the beginning of the world.
You may think that's a bit strange, but I think you should try it. It goes like this:
One day God is being quintessential God, making things from nothing, and he's doing it with his covenant friends—the Son and the Holy Spirit.
To imagine it right, you have got to see that they all think this whole creation thing is a spectacularly grand idea. It won't be without hiccups, they know, but they are providentially confident it will turn out to be a smashing success.

Picture it all for a moment: What it looks like for light to separate from darkness for the first time. The crash of an unfathomably large number of cubic gallons of water sloshing against the seabed.
I wonder whether God the Son gets down on his knees and traces the shorelines carefully, the way a child concentrates on a drawing, while God the Father watches happily from behind the galaxy. Or whether both just laugh as the Holy Spirit splashes cosmic buckets of salt water on the earth to see where it falls, the way visual artist Makoto Fujimura seems to combine accident and purpose while flicking paint over a canvas to see the direction it runs.
I could go on, and I encourage you to do the same.
Think about what it sounds like to hear "Good!" ring out the first time over Himalayan mountain ranges. I imagine it sounds something like a dad's hearty laugh as he watches his kids play happily together in the backyard on a summer evening when, just for a moment, the world seems as it should be.
Think about a peacock strutting for the first time or a lioness exploring her tail the way cats do. All for the first time and hearing the benediction thunder like a divine drum over all things, the Trinity—likely in three-part harmony—shouting, "Good! Good! Good!"
So there you have it. The beginning of the world.
Now I'm a corporate lawyer. Much more nerdy, not less, than the ninety-eight-pound, clarinet-playing freshman that I was. I write and negotiate contracts for a living.
So imagining the beginning of the world as a wild, Trinitarian bash is a bit of a stretch for me too. But it helps remind us of a key point: the beginning chapters of Genesis are a kind of poetry in Hebrew.
Genesis may be true poetry, but it's still poetry. And in poetry, the writer picks every single word on purpose.
Note that God says "Good!" seven times at the beginning of Genesis. It's the rhythmic refrain of the chapter.
But that refrain gets halted with something like a record scratch as the music stops when we get to verse 18 of chapter 2: "The Lord God said, 'It is not good for the man to be alone.'"
Not good!?
This, in the poetry, stands out like an inkblot on a white page. Everything halts like a paragraph left off midsentence. If the Bible is God's Word, you have to believe he does that on purpose. Why?
To stop you in your tracks and make you listen.
So hear it again because it could be the most important thing that God has ever said to you: "It is not good that you are alone."
Created for Friendship
In 2016 and 2017, sociologists started noticing Americans were dying younger and had been for a year or two.
I'm sure it didn't happen quite like this, but I like to imagine a lead sociologist in a lab coat. He's walking around a brightly lit lab, ready to pack it in and head home for dinner, but he has to do his daily check on the Average American Life Expectancy Meter. So he walks over, clipboard in hand, takes a look, and frowns.

He steps back, removes his glasses, and squints at the meter. It's pointing in the wrong direction.
He mutters something and gets his assistant, and they frown at it together. They finally agree that it is indeed true, the Average American Life Expectancy Meter is pointing backward. And it is not broken.
Sociologists didn't know it at the time, but something else was broken: the American soul. This marked the beginning of a multiyear decline. It was the first time since the 1960s that we've seen such a drop. And in the 1960s the reason was clear: there was a flu epidemic. Just enough to bring the average life span down to two years. But in 2017, there was nothing like that in sight.
Our sociologists in lab coats here may be fictional, but this data is not. Researchers found that life expectancy was falling not because of a pandemic or cancer or anything else you might expect.
The real reasons were grim and much more preventable stuff: young suicides, drug overdoses, alcoholism, and other preventable diseases of self-inflicted unhealth. In other words, "deaths of despair," a phrase that has now entered the American vocabulary.
Why? Because friendship will make or break your life.
Around that time, studies showing that chronic loneliness is more dangerous to your health than smoking fifteen cigarettes a day began to get significant attention. Experts called it an epidemic of loneliness because it's not the body that's killing us, it's the lonely soul that's killing the body.
This epidemic of loneliness is not past tense.
The COVID-19-related deaths have only made it drastically worse. Statistics continue to be released that show a steady increase in our loneliness and a steady decline in our ability to stay alive.
Data shows that through 2020 and 2021—between the epidemic of loneliness and the pandemic—Americans experienced the worst drop in life expectancy we have seen in a century.
These statistics point to the enduring truth of God's words in Genesis: "It is not good for you to be alone."
________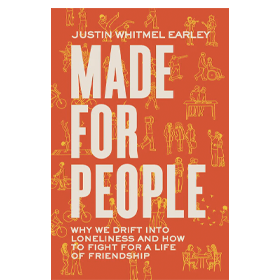 Taken from Made for People: Why We Drift into Loneliness and How to Fight for a Life of Friendship by Justin Whitmel Earley. Click here to learn more about this book.
Loneliness is the most dangerous and least talked-about epidemic—but Made for People offers a cure.
Busyness, fear of vulnerability, and past pain often keep us from the deeper friendships we long for. Discover life-changing habits for friendship that will help you move out of a world of digital loneliness and into a life of being truly known by your friends.
Is it possible to have—and keep—life-giving friendships? In Made for People, bestselling author and founder of The Common Rule Justin Whitmel Earley explains why we were made for friendships and how we can cultivate them in a technology-driven, post-pandemic world.
Justin weaves personal stories with fascinating research and biblical wisdom to show us:
How loneliness points to our God-given needs
Why vulnerability is the beginning of a real friendship
How to deepen friendships we already have
Key habits that create a lifestyle of friendship
God's design for "covenant friendships"
Isolation may be the norm of modern life, but it does not have to be the story of your life. Made for People will inspire you to practice the art and habit of fostering life-giving friendships.
Made for People: Why We Drift into Loneliness and How to Fight for a Life of Friendship is published by Zondervan Books, a division of HarperCollins Christian Publishing, Inc., the parent company of Bible Gateway.
Justin Whitmel Earley is a writer, speaker, and lawyer. He is the author of the award-winning The Common Rule and Habits of the Household, though he spends most days running his business law practice. Through his writing and speaking, Justin empowers God's people to thrive through life-giving habits that form them in the love of God and neighbor. He lives with his wife and four boys in Richmond, Virginia, and spends a lot of time around fires and porches with friends. You can follow him online at justinwhitmelearley.com.
Do you have questions about the Bible?
Become a member of Bible Gateway Plus and get answers to all your Bible questions while you are reading the Bible. Upgrade to the best value in digital Bible study today!