7 Basic Food Items to Stock Now
Today I want to talk about 7 basic food items to stock now! You know, I really have to think about the reasons for listening to the news. It doesn't matter which channel, it's just not uplifting for the most part, right? Yes, I want to know what's going on in our country and the world.
It's very concerning to me right now when I consider the condition of our food chain. Now, I'm not talking about hoarding food, I'm talking about stocking your pantry with the food you will eat today and when we have an emergency. You've heard the slogan, "Store what you eat and eat what you store."
If there was ever a time I suggest you should stock up, it's more important now than ever before. We saw what has happened in the last few years at so many levels. It hasn't been pleasant for us based on the level of challenges brought on by bad weather, sickness, unemployment, and more. If we needed toilet paper, paper towels, bottled water, over-the-counter meds, and more, the shelves were empty in many places. That doesn't count the issues with the empty food shelves. That's why I'm suggesting you evaluate your storage inventory and consider stocking up on critical items NOW.
I've felt the need to update this post so I can remind all my loyal readers to take inventory of what they have stored, what they show as needed based on their emergency plan, and what they should add to stay up to speed.
7 Basic Food Items to Stock Now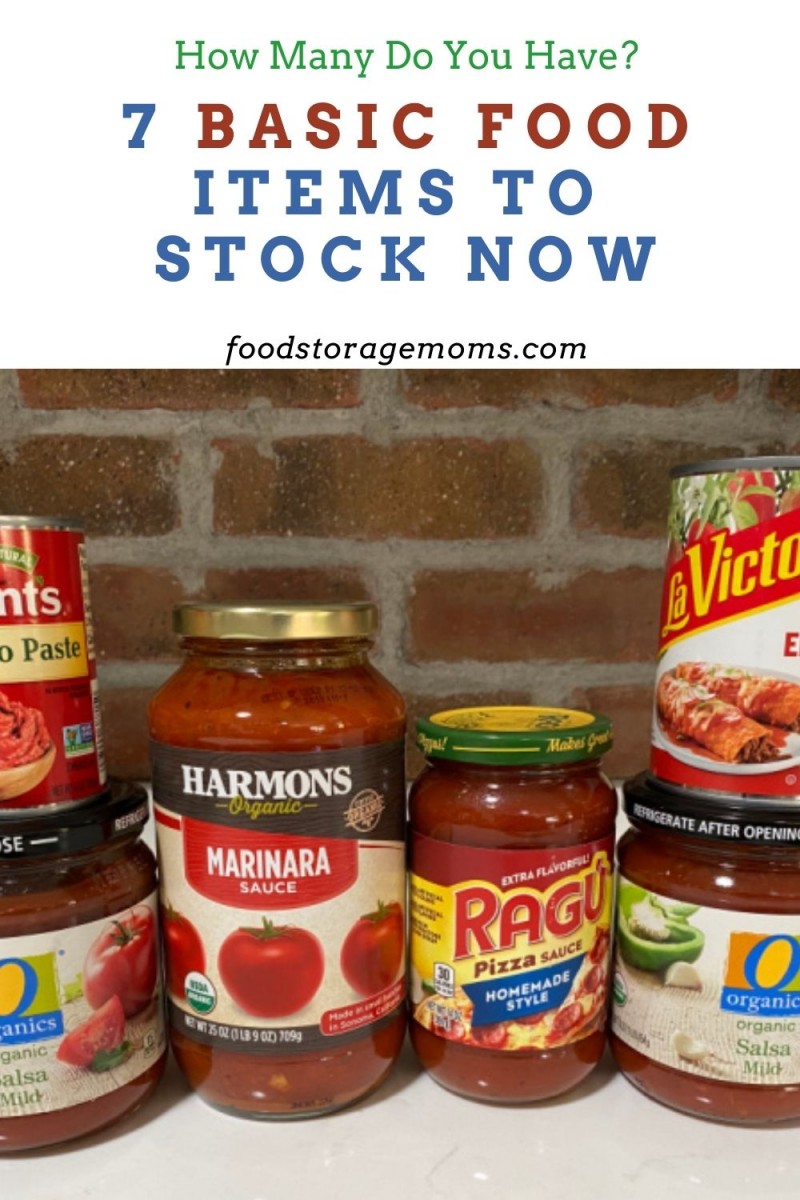 Rice
We have talked about rice before, but I feel strongly you need to stock up even more unless you have what will last you for an extended period. I have about 100 pounds in 5-gallon buckets, plus some small containers like those shown below. If I see rice on sale for a good price, I buy it. Mark and I both love white sticky rice.
My favorite rice is Jasmine rice. I don't store brown rice, it goes rancid too quickly for me. I like things with a longer shelf life, and long-term storage is something we all need to keep in mind as we implement our preparedness plans.
If you need help with how to cook rice, please check out this post, How to Cook Rice. I tried cooking my rice in an Instapot, but it made a mess. I went back to using my rice cooker. I need a quick clean-up after making rice. This is the one I have, Rice Cooker.
You can make so many meals with rice, and stretch most meals by adding more rice. Rice will fill the belly and that's the reason we need to stock up. Here are some of my favorite rice recipes, 7 Easy Rice Recipes For Every Day Of The Week, and don't forget Fried Rice.
Canned Beans
By now you know you can eat rice and beans and be okay for a few days during an emergency. We can add other things for variety, but let's be real here, we need to fill the bellies of our family, and possibly some neighbors who have not planned for any disasters. Beans come in so many varieties you should be able to satisfy everyone's tastes. You have green beans, black beans, pinto beans, garbanzo beans, kidney beans, and more.
The great thing about canned beans, and other canned veggies, is they are shelf-stable and will be good to eat for a fairly long time. Check those expiration dates and rotate as needed.
If you can make Tortillas you can make bean burritos. If you don't have a tortilla maker, I recommend this one. Tortilla Maker If you have a cast-iron pan, you can make so many things.
I highly recommend this set, Cast Iron Pans. In case you missed this post on how to make tortillas, How To Make Flour Tortillas From Scratch. If you have crackers or know how to make your own crackers, you can make chicken salad dip with mayonnaise just like Costco serves.
If you can make biscuits, you can make Cream Chip Beef and scoop it over those biscuits. Homemade Biscuits are easy to make. Please practice making items from scratch and teach your kids and grandkids these great skills.
Peanut Butter/Honey/Jam
Mark and I eat peanut butter and jelly/jam sandwiches at least once a week, maybe twice a week. We started buying smaller jars of both peanut butter and jam since there were just the two of us most of the time. Peanut butter doesn't stay fresh for very long, so smaller jars work for us.
It's certainly different than when we had our four girls at home. We bought peanut butter in #10 cans! Things have changed for sure! We've been known to have peanut butter and honey sandwiches as well.
Watch those calories as you consume these tasty items, but they do provide some of the vitamins and minerals we all need as part of a healthy diet.
White Flour/Wheat
Right now, you may have trouble getting hard white wheat, or any wheat for that matter. Unless you have a wheat grinder, I would not stock lots of it. Some people will tell you that you can barter with it, okay, if that works for you.
I'm not going to have 500 pounds of hard white wheat stored just to barter, but that's me. I do stock white flour as part of my food storage plan because we can always make cookies, cakes, white bread, tortillas, crackers, and biscuits. The flour only has a shelf life of about one year, so I store the wheat and make my own flour as needed.
Just giving you the heads up about a hand crank grinder, it is not easy to use. I have an awesome one and it's still hard to hand-crank. I use my electric one weekly to make my whole wheat flour bread.
My hand crank unit is from Montana, I saved for 5 years to buy it. It's called the GrainMaker, and now they make a smaller one. I have a few electric wheat grinders, but my favorite is the KoMo Classic Wheat Grinder. I will use my solar-powered battery unit to power this one if we lose power for extended periods of time.
For those families with a wheat tolerance issue, you can buy gluten-free flour, but it can prove to be more expensive. I'm blessed to not have any close family members who have to deal with that.
Consider some whole grains and legumes that don't have gluten, you'll be surprised what options you have for your grocery list once you've done some homework.
Canned Vegetables/Fruits/Meat
We'll be so glad if we have learned to garden to help replenish our food storage inventory. If we have a drought and have to purchase the fruits and vegetables we need, we can eat these canned items and use them to make so many meals. Be sure and save the liquid so you have extra "water" when needed.
Take your family to the store when they have case lot sales and stock up on the varieties your family will eat. Canned foods provide so many options. We love carrots, spinach, apricots, oranges, apples, peas, sweet potatoes, and so many more. Be sure to get input from each family member when deciding what to buy. If you can fruit and pressure can your vegetables, you are a rock star! It's all about being prepared with food your family will eat.
To help maintain a diet with the health benefits we need, you should also have canned meats on those shelves. One of the most common canned meats is tuna, but you can also find canned chicken, turkey, pork, beef, and other fish like salmon. With the rice you have, along with the wheat flour, you can make a wide variety of meals that everyone likes. Whether it's your favorite casserole, some tasty sandwiches, or salads, canned meats are a must-have.
Sauces/Salsa/Spaghetti Sauce
When I was raising my family we had spaghetti once a week, tacos once a week, and homemade pizza once a week. So, it's only natural for me to stock up on spaghetti sauce, enchilada sauce, pizza sauce, and salsa. Lots of salsa, just so you know! I also have a good stock of herbs and spices so we don't miss out on the flavor we love. That includes garlic and onion powder and of course salt, for so many meal options.
Mark loves tacos with ground beef, spaghetti with meatballs, and pizza with pepperoni. He says it's so he can get all the protein he needs. Whatever!! I could easily skip the meat! Just think of all the meals we can fix with spaghetti sauce. Of course, spaghetti, but also lasagne and manicotti! With enchilada sauce, we can make enchiladas super fast!
This is why I store flour tortillas in the freezer. I buy the huge packs from Costco and separate them into 6 tortillas per freezer bag.
Then in the freezer they go, I'll thaw a package in the refrigerator when I need them, which is almost every day, just saying!
Pasta
Here are a few boxes of pasta I store. I also store them in Rubbermaid 8-quart containers. The boxes of pasta shown below will be used for my series, "Soup In a Jar" which I will be starting again very soon.
All other pasta is removed from boxes and placed in 8-quart Rubbermaid Containers with Lids.
These are the 8-Rubbermaid Containers and Lids that I buy. I give these as wedding gifts too!
What are some other food items I should consider stocking?
Some other items you should consider are:
Nuts of all kinds like peanuts, cashews, almonds, walnuts, pecans, and pistachios, are all great options. They are healthy treats, add some fiber, and are fairly easy to store. Be cautious about having too many at any given time since they can go rancid.
Cooking oils are also good additions. I'm not talking about my grandma's lard. Consider olive oil, coconut oil, and regular vegetable oils. They also come in handy when making your own salad dressings. Don't forget to have some vinegar around too.
Many meals are more enjoyable with some common condiments like mustard, ketchup, mayo, relishes, and horse radish.
Final Word
7 Basic Food Items to Stock Now
My hope is that you have stocked up with those items your family will eat. The price of food is going to continue to rise so it will cost us more to feed our families.
So many of us are on a fixed income, whether our budget is $10,000.00 or $900.00 a month, we have to live within our means.
And it is hard, really hard. For those who were raised to cook from scratch, we are lucky, or blessed, you could even say. We've learned to cook using basic items that are good for you and can easily be used to make all kinds of meals without having to run to the grocery store or fast food outlet to feed our family.
I'm so glad my mother taught me to make bread, biscuits, and crackers. Oh, and pizza! Keep prepping, we must. May God Bless this world, Linda
Copyright Images: Kitchen Utensils AdobeStock_207898950 by Nitr