Why And How We All Need To Store Lots Of Beans


I store lots of beans because I love beans, just about any kind of bean suits me. The price of food continues to rise every day and I think beans may go up in price because most people can't afford meat as their source of protein. I actually stopped eating meat about a year ago because I read what animals are fed before the meat reaches our tables. I wish meat tasted more like it did when I was younger without all the hormones and antibiotics added.
I'm updating this post from 2017 with more information and better images. It brings me so much joy when people send me pictures of the cows they are raising without hormones or antibiotics. They are raising their own beef, what joy those images give me. My whole life I wanted a small mini-farm, but it never worked out. Congratulations to all of you who have learned or are learning to raise not only your vegetables and fruits but your animals to feed your family.
We All Need To Store Lots Of Beans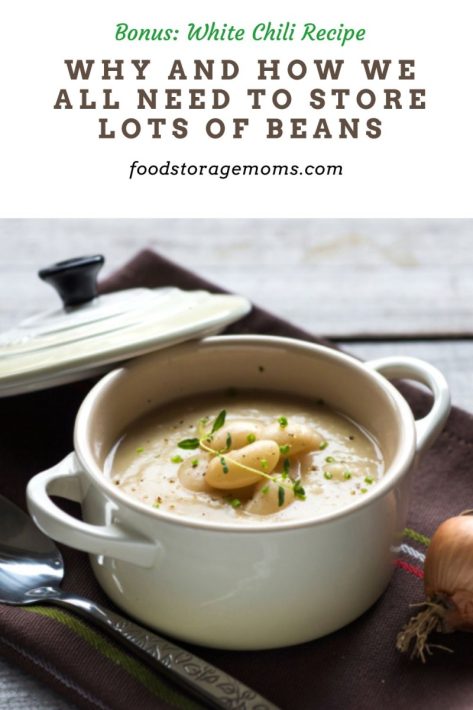 GMO Corn
The added pressure from Monsanto to force farmers to use GMO corn in animal feed or get arrested really goes against my grain, no pun intended. I love to hear that people are raising their own beef, goats, chickens, or rabbits.
I applaud them for trying to feed their animals without GMO (genetically modified organisms) feed. I've said before, I couldn't kill an animal and then eat it. Yes, if I was starving I would, maybe.
Grass-fed beef tastes a lot like the old days with real flavor. Oh, and fresh chicken without the hormones, is so much better. But, here again, I have made the decision to no longer eat meat, that's how I roll these days.
Years ago, I can still remember the deer Mark so proudly brought home after hunting the poor thing and hanging it up in the garage. Wow, then we dragged that baby into our kitchen. I have never looked at a deer quite the same out in the fields ever since that day. We cleaned it, cut it, and wrapped up all those red chunks of meat.
For some reason, I never could cook it so I could eat it. Yes, everyone told me to let it age for a few days, marinate it, or cook it with this or that spice and it would taste just like regular beef. Nope, none of it worked for me. But, I know a lot of awesome hunters who love hunting and eating wild game, any kind is great for them!
How To Cook Beans
I also fill food-grade 5-gallon buckets with all sorts of beans. Pinto, white, and black beans are my favorite varieties.
I'm talking about bags of dried beans right now and cooking them on the stove. A small batch is one cup of beans to 3 cups of water. You can make larger batches by increasing the cups of dry beans and the cups of water in the same proportions.
Open the bags and spread the beans out to check for rocks and small chunks of dirt.
Rinse the beans.
You then start soaking the beans overnight covered with water at least 3 inches above the beans. I've found this works best for my style of cooking beans rather than trying a quick soak. Some people will try a hot soak, but having them covered in water all night seems to do the trick.
Then drain the beans the next morning and cover them with fresh water at least 3 inches above the beans, adding water as needed.
Bring the beans to a boil and then let them simmer all day or until tender. The older the beans, the longer they will take to be tender.
Add your favorite items as flavorings and simmer for about an hour with your favorite add-ons. I like to add chopped onions, chili peppers, cumin, chopped cloves of garlic, and chopped cilantro.
Lots of Beans
You can buy beans in little bags sitting on the grocery store shelves, and you can grow beans in your garden if you live in the right 'zone". You can even buy 50 or 100-pound bags of beans, just about any bean you prefer. You can buy #10 cans of beans and #10 cans of instant beans. For the instant beans, you just add water and cook for about 20-30 minutes, depending on the brand you buy and the amount of moisture needed to cook them and make them tender.
Nowadays I usually buy cases of vegetarian refried beans. I also buy kidney beans, black beans, garbanzo beans, navy beans (white beans), and chili beans. All you need is a can opener to open the cans if we have a disaster and we lose power.
The ones that are ready to eat I can eat right out of the can if need be, no heat required. Regular Size Can Opener or Large Can Opener, and my Electric Can Opener (great for my arthritic hands)
Beans Are a Versatile Food
Sometimes I think people think beans are only for chili or soups. They are great for that, but they can be used in so many dishes, or on salads. Can't you just picture the salad bar with the kidney beans right now? I also love beans in my Mexican recipes. Hardly a week goes by that we don't have tacos, burritos, tostadas, or enchiladas with some Spanish rice.
Remember, if you don't use up all the canned beans before they expire you can donate them to your local food bank, trust me they will love them! If you've already cooked them, store them in your refrigerator or freezer until you need them. Once out of your pantry, having some in the fridge makes for easy future meal planning.
1. Pinto beans
They are great for refried beans.
2. Kidney beans
These are great (after cooking) with veggies from the garden or to make chili.
3. Red chili beans
Chili is one of our favorite meals, especially on a cold winter day. We use these to make chili. Homemade Vegetarian Chili
4. White Northern beans
I save the ham bone to make a pot of soup by adding chicken broth, chopped celery, onions, etc. Ham And Bean Soup

5. Blackeye peas
When you add these to salsa or a salad they are great for a side dish or to make hummus.
6. Anasazi beans
Anasazi beans are great for southwestern dishes or soups.
7. Black beans
Black beans are yummy in tacos or as a side dish. I wish I had the recipe for black beans from Texas. My sister lives there and they know how to make the best salsa and black beans.
8. Chickpeas (Garbanzo)
Garbanzo beans are awesome to make hummus or add to a salad.
9. Cannellini beans
Cannellini beans are great for making various soups.
10. Lima beans
Use lima beans for soup or a side dish.
11. Pork and Beans
Don't forget the popular Pork and Beans! Thanks to Cindy H. for reminding me about these!
How To Store Beans
I always figure, if I start with one cup of dry beans I will have three cups of cooked beans. For long-term storage, you can store beans in buckets with Gamma Lids. You can also get Gamma lids at some of your local grocery stores, but oh, how the price of these has gone up! They are so worth the price, no more sore fingers opening those 5-gallon bucket lids! 5-Gallon Buckets with GammaLids
People store beans in clean soda bottles, mylar bags, mason jars, and just about anything is safe for longer shelf life if they're protected from rodents, insects, moisture, and direct sunlight. I like putting things in vacuum sealer bags using my Food Saver, it's awesome! Please place your Mylar bags in buckets.
A glass jar can be used for smaller amounts, but there are some risks of breakage. You should consider using oxygen absorbers for long-term storage of beans. Make sure you read the instructions since they can't be left out too long or they lose their effectiveness.
Have you read this article: 3 Bean Chili Soup Mix In A Jar
My Favorite White Chili Recipe
Course:

Main Course
Cuisine:

American
3




15-ounce cans of small white beans (not drained)

2




12.5-ounce cans of canned chicken (drained) or an equal amount of leftover cooked chicken

1/2




cup




butter

2




cups




chicken broth

1




cup




mozzarella cheese grated

1




4-ounce can of chopped green chilies

1




chopped onion

1




16-ounce jar of salsa

sour cream to garnish

Tortilla chips crushed for garnish
Add all the ingredients in order into a slow cooker and cook on low for 5-6 hours.

Serve with crushed tortilla chips on the soup with a dollop of sour cream.

Add a few sprigs of Cilantro, if desired.
Anti-Gas:
I found this great product while teaching classes in a store in Salt Lake City, Utah. It is Organic Ajwain Seeds. After you soak your beans, drain off the water and cover with fresh water, and add the required amount of Ajwain seeds. You just add 1/4 teaspoon of Ajwain Seeds to 2 cups of dry beans while cooking. The spice smells so good, it's like a Mexican seasoning. It's organic and adds flavor to the beans, as well as the anti-gas factor! I still add my favorite spices like cumin, chili powder, cinnamon, cocoa, etc. Ajika Organic Ajwain Seeds
What are some health benefits of eating beans?
I try to get as many essential nutrients from plant-based foods as I can. Eating beans provides an awesome plant-based food addition of protein to your diet. Beans also provide fiber to your diet, needed iron, and essential vitamins. The proteins from beans are a good replacement for animal-based proteins since they come from plants that are more heart-healthy.
Beans are great as a low-calorie and low-saturated fat source of your daily protein intake. They also contain folate, a helpful nutrient for your red blood cells and to deter some defects in a fetus during pregnancy.
The polyphenols in beans provide the benefits of antioxidants which help fight off the effects of free radicals, the damaging chemicals our body tends to produce during normal metabolism. Antioxidants have been shown to help reduce the risk of certain cancers too.
The fiber derived from beans may be able to help stabilize your blood glucose levels, an important factor when trying to avoid contracting diabetes. The fiber also tends to make you feel full, thus helping to avoid eating too much.
Final Word
If we store lots of beans they will help stretch the dollar and we can share a meal with a neighbor after a disaster or at a bean burrito party! Thanks again for being prepared for the unexpected. May God Bless this world, Linda
Copyright Images: White Bean Soup Depositphotos_100567702_S, Mixed Beans with Spoon Depositphotos_63969107_S