by Laurie Kline
Her gaze froze me in place.
"Be a spokeswoman for peace," author Susan Vreeland said.
Five words. Oh, how they sobered and thrilled me: a sacred charge.
Have I even begun to fulfill it? A little, perhaps. These days, with fewer years to grow into the calling, I want to live kindly, wholeheartedly—as St. Mildred did, in her tumultuous times.
Daughter of 8th century Anglo-Saxon king Merewald of Magonset, young princess Mildred braved the perilous journey by sea to France. The Abbess of the convent school there, in Chelles, had agreed to educate her.
At some point during training, a noble relation of the Abbess sought her permission to wed Princess Mildred. Did the Abbess imagine gold for her coffers? Consent was given.
"I was sent here to learn, not marry," the girl meekly replied.
Despite threats and blows, gentle Mildred held her ground. The Abbess was not a woman of peace. Legend says that she threw her student into a blazing oven. For three hours.
Mildred stepped out, blinking perhaps, "unscathed and radiant."
The Abbess went postal. Tradition tells us savage beatings followed.
Mildred endured.
Is this how a heart for peace takes root?
Reports of the abuse finally reached Mildred's mother. The Anglo-Saxon Queen, by now an Abbess herself, sent ships to rescue her daughter. Escaping by night, Mildred carried home a sacred nail, reputedly from the cross.
Reunited at last, Mildred joined her mother at the island monastery, Minster-in-Thanet, where she became a nun. How surprised she would have been to learn she would become a revered saint, her feast day celebrated, worldwide, in July.
Eventually, Mildred succeeded her mother as Abbess, consecrated to her new calling by Theodore, the archbishop of Canterbury. For three decades, the former princess and bride of Christ ceaselessly served her community.
Legend claims that while Abbess Mildred prayed one night, the prince of darkness extinguished her candle.
An angel drove him away, then relit her taper.

Renowned and beloved as a peacemaker, Mildred died from a painful, lingering illness. In 1033, her remains were transferred to a shrine in St. Augustine's Abbey, Canterbury, along with her precious collection of relics. Testimonies of miraculous healings surfaced, and her fame spread across England and Europe.
Paragon of gentleness, generous compassion, and serenity, St. Mildred was an advocate for widows and orphans, troubled people and social pariahs.
I like imagining a gravestone bearing her name, which means "peaceful counsel."
Friends, what will we write or speak this day in the name of peace?
***
Author Juline W urges us to emulate Mildred's example:
Through constant prayer and frequent fasting,
by ceaseless hymnody and great humility,
the glorious Mildred forsook
the allurements of her royal rank,
trampling underfoot all worldly pride
and presumption. Wherefore,
let us imitate her virtues,
that, free from all earthly attachments,
we may join her
at the wedding feast of Christ our Saviour.
---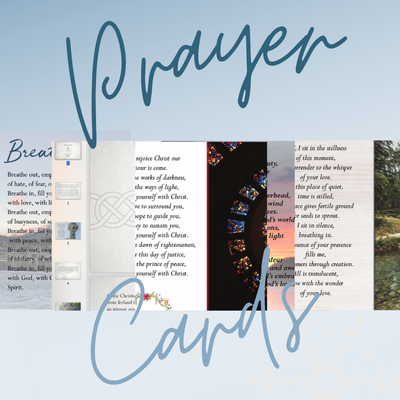 Prayer cards are available in the shop for many occasions and seasons–from everyday pauses and Lenten ruminations to breath meditations and Advent reflections, enjoy guided prayers and beautiful illustrations designed to delight and draw close. Many are available in single sets, sets of three, and to download–even bundled with other resources!
Related